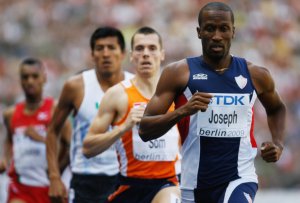 Ask An Olympian – Running Seminar Flyer
We are very excited to host "Ask An Olympian" Running Seminar and Clinic. Moise Joseph, Olympian and World Class Athlete will be leading us throughout this active 2-hour event. Mr. Joseph will be giving training advice, nutrition advice, and will be providing an assessment with running biomechanics and gait analysis.  Whether you are just starting to run or you are trying to get yourself to the next level of competition… this event is for you.
Moise competed in the 2004 Olympics in Athens, Greece and the 2012 Olympics in London, England. He has competed in countless World Championships as well. Dr. H boasts "We are honored to have an athlete of this caliber sharing his knowledge with our patients and our community."
Potomac River Running will also be on hand with their mobile store which will allow you to purchase shoes and other items.
The event will take place on Saturday, March 25, 2017 from 8:00am to 10:00am.
Event location is : 510 W. Annandale Road, Suite 300, Falls Church, VA 22046.
Cost: FREE to public. We will be accepting donations on the day of the event to a charity supported by Mr. Joseph.
To RSVP or with questions, please email amcintyre@unitedwellnesscenter.com or call 703-437-8195. Please RSVP prior to Tuesday, March 21, 2017.