WEEKEND WINDUP BLOG       July 28, 2017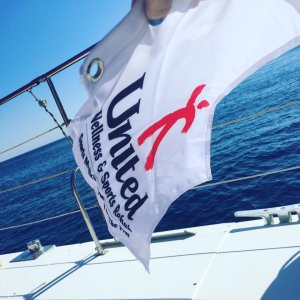 The United Wellness & Sports Rehab TRAVELING DUDE took its maiden voyage 15 hours away to Greece. My personal adventure began in June as I took my two teenage children on a 2 week vacation in Greece. What an amazing people and country. We had private traditional Greek dance lessons, rode donkeys down and up the Santorini caldera, stayed in an authentic farming village and watched as the native people prepared sun dried tomatoes on their roofs, hauled goods to their homes with their donkeys and listened to the magical harmonies of Greek music long into the night. A trip of a lifetime to share with my children before they begin their own journey into adulthood.
The idea for the TRAVELING DUDE was born after I realized that this team does some serious traveling. In the past 2 years our staff and doctors have traveled to France, Spain, Vietnam, Africa, and Greece. What a great way to share our personal and work adventures than to share a picture with our friends.
We look forward to sharing its location with our friends as TRAVELING DUDE explores the world with our staff, doctors and friends of United Wellness.
Where will TRAVELING DUDE go next… keep watching!