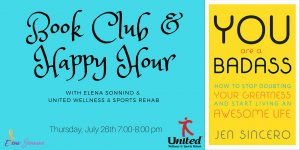 Join Elena Sonnino, life coach & motivational speaker at United Wellness & Sports Rehab RESTON to explore the book: You Are A Badass: How to stop doubting your greatness and start living an awesome life by Jen Sincero. Elena will share snippets of the book and her favorite practices to help you stop creating self-imposed barriers in your life and step into your own spotlight.
This interactive evening will include happy hour sips and snacks.
*Reading the book in advance is not required.